Bed and Breakfast at the Churchview Guesthouse in Belturbet Cavan. Warm and comfortable accommodation for the whole family in Cavan, Ireland.
The Slieve Russell Hotel, Golf & Country Club. Cranaghan, Ballyconnell, Co. Cavan. Compare the Churchview Guesthouse Belturbet for Accommodation
Dungimmon House Ballyconnell B&B Cavan, Close to Slieve Russell Hotel Ballyconnell. Compare the Churchview Guesthouse Belturbet for Accommodation
Seven Horse Shoes Hotel B&B Belturbet. Compare the Churchview Guesthouse Belturbet for Accommodation
Fortview House Bed & Breakfast in Cavan B&B Approved Accommodation. Compare the Churchview Guesthouse Belturbet for Accommodation
Good Roach fishing in Cavan at present in Belturbet. Some nice Tench been caught too
Vacances de pêche au brochet dans le Comptê de Cavan


Vacances de pêche au brochet en Irelande.
Séjours de pêche en Irlande
Guidage de pêche aux leurres
Pike Fishing Holidays Cavan
Pike Fishing Holidays Ireland
Pike Fishing Break belturbet
Pike Fishing Holiday in Cavan with Guide

Le Guest house Church View est une maison d'hôtes primée à quatre
étoiles. Située à Belturbet, dans le compté de Cavan, elle est gerée par les proprietaires, Maura et Cathal Hughes.
Prix special : une semaine de B&B (Chambre et pétit déjeuner) pour €200 par personne partageant une chambre. Nos pêcheurs de brochet souvent ré servent de nouveau pour l'année suivante, avant meme de partir!
Nous offrons du Wi-Fi gratuit pour tous nos invités et du stationnement gratuite dans un parking privé.
A votre disposition, un espace de rangement pour pêcheurs et une chambre froide, ainsi qu'un congélateur pour la conservation d'appâts.
Church View est fourni de sept chambres avec salle de bains attenante et televisions dans chaque chambre. On peut acueiller jusqu'a 18 personnes partageantes.
Toutes nos chambres sont meublées a un nivaux tr ès haut avec télévisions dans chaque chambre.
Nous sommes un B&B nommé chez Lonely Planet, Rough Guide et on a recu beaucoup d'avis fantastiques sur Trip Advisor et www.booking.com
Nous offrons aussi un salon pour les hôtes avec le café/thé et bouilloire.
Vacances de peche au brochet dans le Cavan
Le brochet est le predateur d'eau douce le plus grand, pêché pour le sport dans les lacs irlandais.
Le brochet se nourrit d'une vaste gamme de sources de nourriture; pour la plus part, dans la region de Cavan, de poisons communs tels que gardon, rotangle et anguille.
Les methods plus efficaces pour pêcher le brochet sone les leurres artificiels, la pêche au poisson mort et, depuis quelques ans, la pêche à la mouche .
Pourquoi pas louer un guide le jour du pêche pour obtenir des conseils optimals , afin de vous permettre de pêcher le brochet de vos rêves?
On peut vous conseiller un ghillie, des loueurs de bateaux ainsi que recommender des restaurants òu manger le soir.
Avant tout, ce que vous attend est un accueil chaleureux, bien Irlandais!
Church View Guest House Accommodation, Belturbet, County Cavan
Guest House de premiere classe dans la région des lacs en Irlande.
Tyrone Hull has just returned from an enjoyable weeks fishing in Ireland on the Belturbet Festival.
When we arrived on the Friday it was a case of unpacking the gear and sorting the bait. We then had a few pints of the black stuff in the evening and a good feed in the local pub. We were staying in Church View Guest House in Belturbet town which specifically caters for anglers, providing a cold room for bait and a drying room for tackle. Breakfast is fantastic and they cannot do enough to accommodate you


Read Tyrones Full Article Here


Cavan Equestrian International Horse Show 2016
Cavan Equestrian International Horse Show which runs from Wednesday 9th to Sunday 13th November.
Still some B&B available for Church View Guest House in Belturbet.
We are just 10 minutes drive from the Cavan Equestrian Centre
Phone MAURA 049 9522358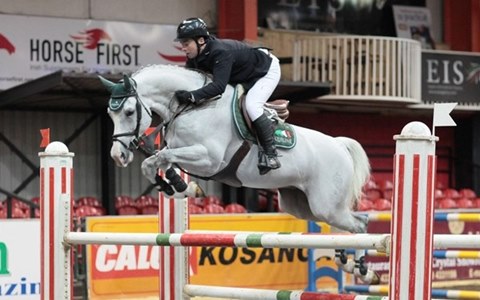 Pike Fishing Holidays
Pike Fishing Holidays At Church View Guest House in Belturbet
Contact Maura 0499522358
Coarse Angling Festivals 2016

Check out the 2016 Angling Festivals Here
Good coarse fishing reported in Cavan area
Some local anglers fishing Rann report good bags of fish with a few bream and plenty of hybrids while other anglers fishing the Caratraw/Butlersbridge area report excellent catches.
Good bags of tench are being caught in the Killeshandra/Belturbet area. Staying in Belturbet, Maura Huges reports on a good catch by visiting angler Dac around the Belturbet area while staying at Church View Guest House. The recent weather has improved the fishing and better catches are been reported. With plenty of roach, perch, hybrid, skimmers, bream and tench about and more dull weather ahead it is looking good for the rest July and August....Read More
Pike Angling Holiday in Cavan
Pike are the largest fresh water predators caught for sport in Irish loughs. Pike feed on a wide range of food sources, mostly coarse fish in the Cavan area. The most effective methods for catching Pike are lure fishing, dead baiting and in more recent years fly fishing. Why not book a guide and get some expert advice from the Angling guide on the day and help catch the fish of your dreams.
Coarse Angling Holiday in Cavan
Cavan lakes and rivers have good stocks of Bream, Roach, Rudd, Perch and Pike. Eels are present in all waters in the County. Roach, Bream and Rudd Bream Hybrids are found in the majority of these fisheries. Tench are now more widespread and have grown to specimen size in some fisheries. There are lakes to suit all tastes. The angler seeking large open waters with the promise of outstanding amounts of Bream and Roach can choose from the wider stretches of the rivers or large lakes such as Gowna, Oughter, Sillan, Upper Lough Erne, Lough McNean and Lough Ramor. Specimen hunters in search of large Tench, Bream and Pike will find many waters where their efforts will be rewarded. Recent fish stock surveys have revealed many coarse angling waters in the County with specimen fish.
Showjumping in Cavan
For a full list of Showjumping Events for 2015 visit the Cavan Equestrian Centre. You can download a schedule/entry form for the show of your choice as soon as it becomes available by clicking on 'Schedule' 'Entry Form' under the show details
Why not book a room with the Church View Guest House for your events
Farm Machinary Show at the Equestrian Centre
Farm Machinary show 3rd 4th and 5th of February
Cavan Walking Festival
1st to the 10th May 2015
Fantastic Coarse Angling Events for 2015
Please click here to download the years events pdf
Please visit our dedicated Fishing Website for more information about Fishing in Ireland